Learning Management Systems


(LMS)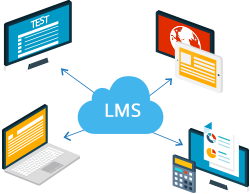 A learning management system (commonly abbreviated as LMS) is a software application for the administration, documentation, tracking, and reporting of training programs, classroom and online events, e-learning programs, and training content.
centralize and automate administration
use self-service and self-guided services
assemble and deliver learning content rapidly
consolidate training initiatives on a scalable web-based platform
support portability and standards
personalize content and enable knowledge reuse.
Learning content management system (LCMS)
Technology focused on the development, management and publishing of the content that will typically be delivered via an LMS.
LCMS is a multi-user environment where developers may create, store, reuse, manage, and deliver digital learning content from a central object repository.
Areas of Specializations
Moodle (Windows/Linux – PHP)
Sakai (Windows/Linux – Java)
Features
Students, teachers and staff management
Assignment submission and files uploads and download
Online quiz, testing, grading
Communication management: instant messages, discussion forum, chat
Full Arabic and Hijiri Calendar Support
Online news and announcement (College and course level)
WiZiQ online virtual classroom learning environment.
BigBlueButton web conferencing system for distance education.
Complete Features List
Ability to setup, manage, and deliver students virtual courses in virtual class room and plan the delivery in in semesters
Registration module: is a Moodle activity add-on for registration of students for examination at institutions that have not central registration system
Students Profiles: Students are usually asked to edit their profile in Moodle. It is also possible for the site administrator to edit users' profiles.
Enrolments: course enrolment to assigning users the role of student in a course. Internal enrolment or External database enrolment to use an external database to control your enrolments. It is assumed your external database contains a field containing a course ID, a field containing a user ID, and optionally a field containing a role
SCORM support module: SCORM/AICC module is a course activity which allows the teacher to upload any SCORM or AICC learning package to be included in the course. Certified SCORM 1.2 compliant
Quizzes and Exams: The module allows the teacher to design and set quizzes consisting of a large variety of Question types, including multiple choice, true-false, and short answer questions. These questions are kept in the Question bank and can be re-used in multiple quizzes. Quizzes can be configured to allow multiple attempts. Each attempt is automatically marked, and the teacher can choose whether to give feedback and/or show the correct answers.
Survey Module: Survey activity module provides standard, verified survey instruments that have proven useful in evaluating what students are doing and thinking in your classes.
Files management support: Files is a place to upload and download files and find created files which can contain PDFs, HTML, Multimedia, word processing, presentations or any digital content that can be linked from an activity, resource, course section, or for a direct download by the student
My Notes: Personal note manager block
Certificates management: ability to generate certificates for students with the ability to include student's name, date, course name, activity or course grade, other text, a code number, the teacher(s) names. Also can choose to add images such as seals, logos and watermarks. It can be delivered in the browser, PDF, via email, or downloaded.
Communications modules including the following:

Quickmail module: The quickmail block adds a link to a tool that has a checkbox list of all students in the course, and a mail composition text area
Forum module: The forum module is an activity where students and teachers can exchange ideas by posting comments
Chat module: The Chat activity module allows participants to have a real-time synchronous discussion via the web
Blogs: blogs can be created and are user based - each user has their own Blog.
Custom blocks where Advertisements can be displayed using standard HTML and images or flash content.
SMS Module: to integrate with a gateway provider (conditional to have the client supply a local provider)

Statistics: Moodle will gather statistics about each course and for the whole site, and produce graphs displaying them.
Grades: Many activities in Moodle, such as assignments, forums and quizzes may be given grades. Grades may have numerical values, or words/phrases from a scale or rating system
Scales are a way of evaluating or rating a students' performance. Moodle offers a standard set of numeric scales. It is also possible to create custom scales which can be available on the site. Scales may be used in Forums, Glossaries and Assignments for rating and/or grading a student's activity
Activity report: An activity report will show all activity in the course, sorted by topic. Each item will be shown with its type and name. In order of appearance, the fields are: resource/activity name, # of times viewed, date last viewed, and elapsed time since last view
Course logs: Course logs show activity within the course. It allows tutors to see what resources are being used and when. They can check to see if an individual student has viewed a specific resource or participated on a specific activity on a specific day
Additional core modules, blocks, and plugins that will be installed:

Feedback
Questionnaire
Book
Wikipedia block
Birthday block
Theme switcher
---
Virtual Class Room
WiZiQ is an online learning platform. The site is designed to help students and teachers find each other, and to provide an online virtual classroom learning environment.
The WiZiQ virtual classroom runs using a Web browser and Adobe Flash. On the site one can find online tests, tutorials, and recorded classes [12]. WiZiQ also serves as a social networking site to bring together educators and students from around the world. There is no vetting of the teachers on the site, as anybody can become a teacher and anybody can be a student. Teachers upload their profiles advertising what they can teach, tutorials, their experience and their credentials and students can run searches, find recorded classes to watch, tutorials to take, or teachers to work with.
Features
Audio/video
Whiteboard
Support for PowerPoint
Screensharing
Support for other file types including sound, video, Microsoft Word documents, Flash, PDF, etc.
Live Recording, Video Conferencing, and Broadcasting
Education Video Streaming platform supports a variety of E-Learning applications, including broadcasting and recording lectures, Internet distribution, and streaming.